Home

Introduction

Philosophy

World Unity & World Peace Activities

Broader Bolder Education

Inspiration

Affiliations

World Judiciary Summits

Spiritual Talks

New concepts of education Dr Gandhi has given to the world

Books by Dr Gandhi

Articles in Newspapers

Awards & Recognitions

Photo Gallery

Personal Life

Assets of Dr Jagdish Gandhi & Dr (Mrs) Bharti Gandhi

Contact Us
Spiritual discourses delivered by Dr Jagdish Gandhi

Everyday on following TV channels:

Dr Jagdish Gandhi speaks regularly on several international and national TV channels. His spiritual talks are viewed by millions of his fans who stay glued to the television to hear him.
Dear Parent and friends,
If you are in search of truth coupled with a dream for world unity and world peace for your children and if you are willing to receive an idea bigger than any thing you have yet known, an idea by which you may live meaningfully for your children and the society, then listen to the education talks of Dr Jagdish Gandhi for the answers , on the below TV channels.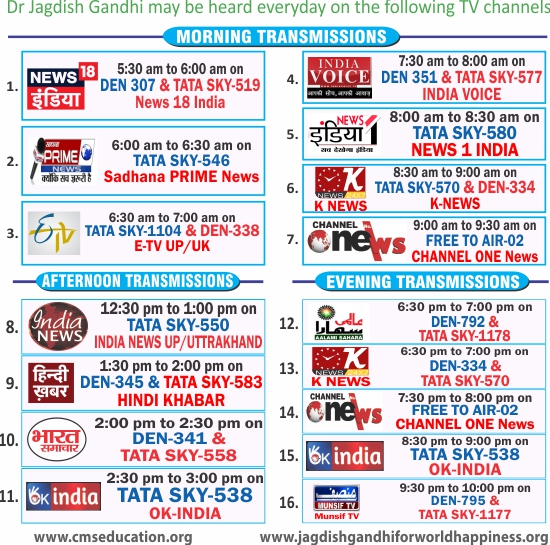 You are also cordially invited to listen Dr Gandhi in the World Unity Satsang at CMS, Gomti Nagar Branch, every Sunday from 10 am to 12 noon.
Comments on spiritual discourses by CMS Founder-Manager,
Dr Jagdish Gandhi on TV Channels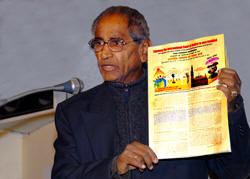 "I listen to your talks on Aastha Channel. I feel a special kind of joy in listening to your views. If every person follows the path advocated by you, then this earth will turn into heaven."
Dr Nimal Singh Sehra,
15516/1 Street 11, Prabhat Nagar, Ludhiana

"On listening to your talks on Sanskar Channel I find that your experiences are unparalleled. In order to translate your dream and ideas into reality, you have established the unique City Montessori School."
Dr Chaitan Prakash Sen, RES (Rajasthan Education Service)
Near City Polcie, Nayo-ka-Chowk, Jodhpur - 342001.

"Your eloquence, relevance of thoughts and your love for Hindi and our culture make one very happy. It was gratifying to see your love for all religions and that you are striving to create a holy wave among children so that all religions can co-exist together and contribute to national development."
Dr Suresh Varma
163/5 Santosh Sadan, Station Road, Kota (Rajasthan)

"I have been listening to your talks on Aastha Channel. Your views inspire people to detach themselves from selfishness. Every word uttered by you inspires the listener to bridge his understanding and promote peace between people of different faiths as per the concept of Vasudhaiv Kutumbakam. Your thoughts touches the innermost feelings."
Dr Sitaram Chaturvedi,
(Former Dy. General Manager, Allahabad Bank),
14/268, Indira Nagar, Lucknow.

"We are highly impressed with the talks delivered by you on Sanskar Channel. Your thoughts on Vasudhaiv Kutumbakam (the world is but one family) touches the innermost core of our hearts."
Shri Brajlal Biyani Shiksha Samiti,
Dashera Maidan Road, Amrawati, Maharastra.

My wife and I have been watching your programme on Sanskar TV Channel. We have been inspired by your teachings and the achievements of your school.
Dr Brendan A. C. Azevedo
5/29, St. Anthony Road, Moti, Daman
(Translated from original Hindi letter dated 15th September 2004)

" I have been getting much joy in listening to your talks on Aastha Channel. You are trying to promote a noble cause. Today children do not go to Gurukuls, but you have created an environment of a Gurukul around yourself."
Dr D.L. Gogia, MD
(Anaesthesia) CMC Pooran Vihar, Jagadhari.

"I agree with you that instead of cursing darkness, we should light the lamp. What I feel is that the problems facing man today are worldwide. These problems have sprung from a craze for material possessions. It is the moral duty of every person to express solidarity with you and your institution."
Dr Rajendra Dheeman, Pinjore

"I have been listening to your TV talks regularly. I am impressed with your views in regard to the welfare of the entire humanity. Promoting the good of the whole humanity is the first step to reach God.
Ms Anita Dheeman,
M-190, Street No.12, Shastri Nagar, Delhi -110052.

"On listening to your views on education I feel as if my long cherished dream is about to be realised. I am confident that you shall be able to change the world one day, as the path you have adopted is noble. Nothing is better than educating children, which you are doing wholeheartedly with unusual dedication. I would like to assure you that I am with you in the promotion of your noble cause. Other people will also follow you."
Mrs Karwari Devi c/o Dr Deepak Singh,
H.No. A/163 H.I.G. Flats, Ashiana 1st, Kaanth Road, Moradabad.

"I am a regular listener of your pravachan (discourse) which are full of religious aspects of society. It is of much importance to improve the deteriorating culture of our youngsters. I would like to have your cassettes of such valuable lecturers in case they are available. I feel pleasure to hear you and it gives me much knowledge."
Krishna Chandra, Central Institute of Fisheries Education,
B-11/402 &403, Peerless Nagar, Sodpur, Kolkata(W.B.)

Sir, you are really a saint and have the ability to change the scenario. I along with my friends salute you for taking a stand against vulgarities in the name of Valentine's Day and instead celebrating it as Family unity Day. I wish the Almighty give you courage and strength to change the hearts and minds of the people as well as the children who are going to be our future. The whole world needs your teachings.
Dr Manoj Dublish
Oraland Maxillo facial surgeon, 9 Medi centre' opp. Eve's Cinema Hapur Road, Meerut (U.P.)

* We receive hundreds of such letters of appreciation every month. Due to lack of space only few are placed here.