Home

Introduction

Philosophy

World Unity & World Peace Activities

Broader Bolder Education

Inspiration

Affiliations

World Judiciary Summits

Spiritual Talks

New concepts of education Dr Gandhi has given to the world

Books by Dr Gandhi

Articles in Newspapers

Awards & Recognitions

Photo Gallery

Personal Life

Assets of Dr Jagdish Gandhi & Dr (Mrs) Bharti Gandhi

Contact Us
Dr Jagdish Gandhi's Personal Life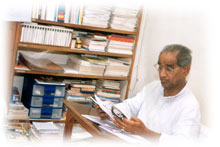 Dr Jagdish Gandhi has since the very beginning been promoting world unity and global brotherhood, not just through his words and profession, but through his day to day deeds. His personal and family life too, reflect his total commitment towards his vision of One World. All his four children, three daughters and a son have been married to individuals in different countries of the world. His eldest daughter, Dr Sunita, is married to a person from Iceland, Mr Stefan Sigtryggsson. Second daughter, Dr Geeta, herself an economist, is married to a British scientist, Dr Roger David Kingdon and third daughter, Dr Neeta is married to Dr Parto Farouhi, a medical doctor from Iran, settled in the U.K. His son Mr Vinay Gandhi, electronic engineer from London University and educationist is married to an educationist from Iran Mrs Mona Gandhi. Mona and Vinay live with Mrs and Dr Jagdish Gandhi.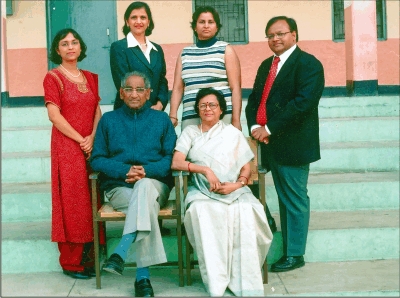 World's Most Loving & United Baha'i family of Dr & Mrs Jagdish Gandhi

Gandhi family believes that Meaningful Education and making a child a Total Quality Person (TQP) is the only solution to all the problems of life of an individual, his family and the society at large.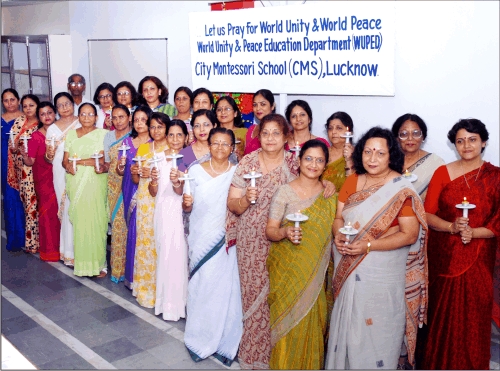 CMS Principals who have completely changed the direction of present day education towards the balanced development of all the 3 realities of life i.e. Material, Human and Divine and who are trying to make every child a Total Quality Person (TQP)