Dr Jagdish Gandhi for World Happiness
In this world, billions come and pass away but only a few think, talk, act and dedicate their life to live a vision that is as broad and big as 'World Happiness'.
The world, fortunately, has on person who is rare and unique - Dr Jagdish Gandhi, a man who has persevered since 1959, hardly sleeping and dedicating his every breath for the mission - happiness of the people of the world. With this mission in mind, he founded a school with little means but great hopes and a powerful vision that one day his students will pass from its portals, carrying the ideals of world unity and world peace.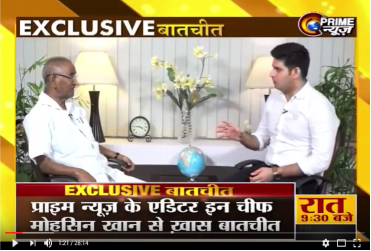 Brief Biography of Dr Jagdish Gandhi, Founder, CMS
Dr Jagdish Gandhi is a renowned Indian Educationist and Founder of World's largest School – the City Montessori School, popularly known as CMS, located in Lucknow, India. Dr Gandhi is a peace activist who has travelled globally and has been building bridges of unity and peace for more than five decades. For his long-standing contributions to education in peace, the United Nations awarded the prestigious UNESCO Prize for Peace Education for the year 2002 of US$30,000/- to his unique creation – the City Montessori School, popularly known as CMS, which Dr Gandhi founded in 1959 with 5 children and borrowed capital of Rupees 300/- (Less than US $10 at that time). The school is listed in the Guinness Book since 1999 as the World's Largest School in a single city with the present enrollment of over 56,000 pupils for the session 2018-2019. Dr Gandhi and his school have received several honours such as Key to the Georgetown (USA), Gusi Peace Prize, Philippines, Nuclear Free Future Special Achievement Award, Germany, and Changemakers' Innovation Award, USA. He was also awarded an Honorary Doctorate Degree in Education by Russia's Bashkir State Pedagogical University in the year 2009.
Dr Gandhi believes that World Judiciary is the last and only hope for survival of humanity and therefore he has been leading a campaign on behalf of 56,000 CMS students representing world's over two billion children and generations yet-to-be-born. The highlight of the campaign if the annual World Judiciary Summits and the International Conferences of Chief Justices of the World in which 1299 Hon'ble Chief Justices, Judges and Heads of States from 136 countries of the world have participated since 2001. The 21st Annual Conference, the World Judiciary Summit will be held from4 to 10 November 2020 at CMS Kanpur Road Campus, Lucknow. For more information please visit www.cmseducation.org/article51